New: Save Time and Stay Agile with Project-Based Pricing Tool
One of the major lessons that the pandemic has taught us is how vital flexibility is for all markets and contexts, qualitative research being no exception. Whether you're an in-house marketer who needs an agile and reliable partner to provide on-demand pricing for projects or a marketing specialist in a fast-paced agency where speed is crucial, our new project-based pricing will make your professional life a lot easier. Here are all the ins and outs of this new solution brought to you by the itracks team.
Who is it for?
In short: for professionals who do qualitative research. In full: for everyone who believes that seamless and intuitive qualitative research experiences can empower you to determine "why" and grow your company. If any of the following situations ever happen to you, keep reading:
You prefer project-based quoting for your qualitative research projects because it's easier to approve budgets for, and it comes with two magic words: no commitment.
You manage dozens of proposals to clients and want a project-based technology quote to add to a proposal in a couple of clicks.
You don't have time to contact various recruiters or moderators individually and need a comprehensive qualitative research project quote.
"We recently had a specialized B2B recruitment need, seeking highly skilled professionals in a niche sector. By working with the itracks Trusted Network we gained access to a complement of expert recruiters and moderators and were able to secure a key recruitment partner and a professional moderator who were critical to the project's success."
– Kelsey White, Method Communications
The life of anyone who does qualitative research can be challenging. We take the stress out of this equation. And here's how.
How does it work?
Go to trusted.itracks.com/projects. To get started, you'll need to enter your company name and contact information.

2. Cutting straight to the point: choose the software that best suits your project needs. First, turn the "Do you need technology?" toggle on.

Then, enter a project name and select the software best suited for your qualitative research project. A quick refresher on who is who: itracks Board is a tool to run discussion boards that can take place over several days (usually 3 to 5) where participants answer questions at a time that best suits their needs. Some board communities last many weeks or even months. itracks Realtime allows you to host video or text groups where all participants join a group at a set time moderated by a researcher.  Typically, these groups run up to two hours.

If you need a recruiter, now is the time to indicate that by turning the "Do you need recruitment?" toggle on.
Next, select a region or specialty area of choice by clicking the "markets targeted" drop-down menu.

When you select a target market, all available trusted partners will receive your quote by default. If you'd like to change that, select only the preferred companies you want to work with.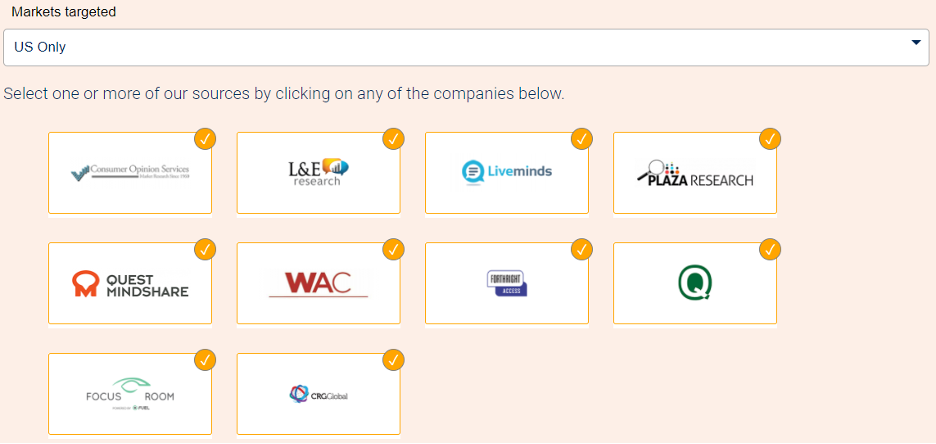 Now, to give recruiters an opportunity to provide an accurate quote, you need to share as many details about your project as possible. Enter a description of your project and remember: no detail is too small.

Enter the number of respondents required and the expected incidence rate (you can always enter "NA" if you're not sure.)
If you need a moderator for your project... yes, turn that toggle on.

Select the researchers you would like to quote on the project.

And enter any further services or project details

If the only thing you're looking for is a technology quote, you'll get it straight away. You can immediately click either "Book Project" to go ahead and book or "Email Quote" to have a PDF version of your tech quote emailed to you. If it's a combination of tech, recruitment, and moderation, you can expect to receive quotes from pre-vetted industry professionals in 24 hours or less. Please make sure your contact details are entered correctly to get your quote.
Congratulations! You've submitted a quote for your qualitative research project. Now you have more time to focus on high-priority tasks and work on building effective marketing strategies with the insights you'll get from your focus group or a discussion board project. We believe that by using powerful tech solutions, you can determine "why" others choose, act, and behave in particular ways faster, keeping the quality of information and results as high as possible. And then comes all the magic we admire: you're empowered to drive change and grow your company. We're proud and delighted to be part of this journey for your business.